How can you plan a wedding without spending a lot?
We recommend that you use the G-rated version K.I.S.S. if you want a stress-free and easy-going wedding. K.I.S.S., which stands for "Keep it simple sis!" We have compiled a list of ways to make your wedding simple.
Your guest list should be A-list
A shorter guest list will save you money and your mental health. It's possible to reduce your guest list to 20. However, reducing it from 300 to 150 guests will make it manageable. An intimate affair is less work than you might think. It also comes with a valuable bonus: more time spent with the friends and family who were invited.
Pro Tip: You can now invite unlimited guests to your marriage–for no cost. You may be wondering how? Live stream technology! Lovecast is a great app that allows guests to stream live video.
Hiring a wedding planner/day of coordinator.
Although you might consider avoiding a coordinator to save money, we recommend hiring one if you want to make the process easier. A professional coordinator will take care of all the details and ensure that everything runs smoothly the day-of. They can also save you money by connecting you with their vast vendor network.
Choose a setting or venue that is natural and beautiful.
You don't need much decor for a celebration at the beach or in an industrial space. This means that you won't have to spend a lot of time choosing, buying, or DIYing decorations. For the win, natural beauty!
You can get married and hold your reception at the same location!
You should choose a venue that can accommodate your entire event. This will save you the hassle and logistical stress associated with having to transport guests from one location to another.
We have two words to describe all-inclusive for maximum simplicity: All-inclusive venues offer many amenities and services, including on-site coordination, catering and staff, rental of equipment, cakes, staff accommodations, and alcohol. This is truly a one-stop shop!
You can be your own stylist for your wedding party.
Mix-and-match dresses are a hot trend! Give your ladies (and men!) a mix-and-match look. You can choose the colour palette or event style that you prefer, and your guests have the option to create their own outfits. Your flexibility will be appreciated by your wedding party. They'll also feel more comfortable spending money on outfits they'll wear again.
Bridesmaids in casual, mix-and match bridesmaid dresses.
There is no set time limit that weddings should last 6 hours. Your coordinator will help you to reduce your "must-have" items and choreograph your event in a way that suits your needs–and your budget. You won't have your party go under the bus as the night progresses. You can also gather your friends at your favorite dive for an after-party if the evening isn't over.
You saw those Pinterest-pinned custom wedding corn-hole boards? They are not necessary. Hand-calligraphed wooden sign for welcoming guests. It's beautiful, but will guests notice it? Naaahh! We recommend that you only focus on the important things that will make or ruin your wedding.
Keep your wedding simple if that is your priority. Keep in mind the main point of this day: Your best friend is getting married. That is what really matters.
First, sit down with your partner and create a budget. Make a list of the essentials. Then, decide which aspects you can be more flexible about. Prioritize what is most important to you. Wedding Ideas offers free Budget Planning Spreadsheets you can use today!
Choose a date and a venue
You must decide what is most important for you. Does it have to be able to accommodate all of your guests? Or does your venue reflect your personal style and personality? You can save a lot on your venue if you choose a date in the low season, midweek, or Sunday. This could mean you have more people than you originally thought. You can also celebrate your love with your closest and dearest.
After you've chosen your venue, make sure to book your ceremony and confirm the attendance of your celebrant/registrar/minister/church. It is not a good idea to have to reschedule the event because you don't have someone available. You can hold your venue until you have confirmation from your celebrant. After that, deposit your money.
It is a good idea to send your save the dates cards at this time. This will give everyone enough notice to make arrangements for transport, accommodation, and time off work. If your wedding is overseas, this is particularly important. Send your save the date cards as soon as possible.
Next, make sure you secure the key suppliers for your wedding. You need to choose reliable, trusted suppliers as soon as possible. Reliable suppliers are in high demand. Recommendations from friends, family, colleagues, and other trusted individuals in the wedding industry are a good idea. Meet with them, see their work and discuss your needs. Are they flexible, attentive and willing to meet your needs? You can be sure they won't let you down. After you have chosen them, listen to their advice.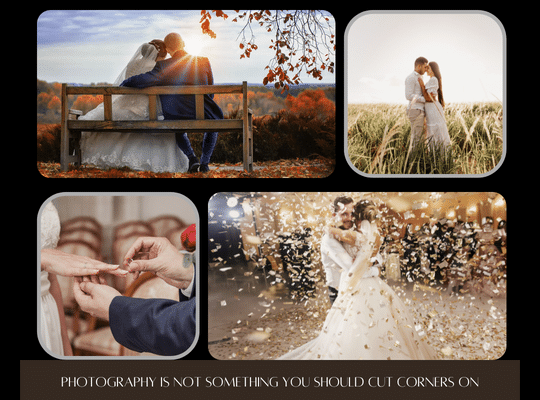 Photography is not something you should cut corners on
Your videographer and photographer should be at the top of your list. Do not skimp on these as they will provide a tangible record of the day's events that will last for a lifetime. It's impossible to make things right and you won't be able to go back and fix them later.
You should make sure your wedding dress is at the top of all your priorities. It may take six to eight months to get the perfect fit for your wedding dress. You will need to book your other key suppliers, such as florists, caterers, and entertainment, as soon as possible.
Your choices in location, dress and venue may help you to identify your wedding theme. If you don't know what to do, consider the best theme for your event and the season. There are many options: Winter wonderland or English summer roses; 20s, 50s, seaside or funfair. A theme could be based on a favourite colour. It's not necessary to have a cohesive look. An eclectic mix of items you love will work just fine.
Attention to the smallest details
You can now start to put the details together. You can now choose your bridesmaids and how many, and what they should wear. The groom should do the same for his groomsmen. You can choose stationery that will complement your wedding. Send your invitations two to three months before the event. To make it easy for guests to respond, include RSVPs along with your invitations. Other details, such as maps, dietary requirements and information about accommodation, could be included. Be sure to consider the entertainment. You will be setting the mood and atmosphere for the day. Make sure to take care of your guests and include everyone.
It's great to have conversations
Communication is essential for every day. To make it easier, create lists and spreadsheets. It is important to discuss the details with the key members of your bridal party, so that they are aware of the order and their roles in it. You should take breaks during the planning process. Don't let it consume your life. It's impossible to please everyone, so make sure that the day is just for you. Ask for the support of family members and friends. Hire a professional planner to help you manage family stress and provide support.
Learn to adapt and conquer!
It's important to remember to be flexible. Unexpected events will occur, but it shouldn't ruin your day or derail the wonderful experience you're about have. Smile! Smile and be kind to your bride!