The Benefits of Hiring an Event Planner to Plan Your Wedding
What type of flowers should you get? From where can I buy them? What style of chair is best? Do I need to worry about the catering or decorations first?
These are the questions you need to ask when planning your wedding. It sounds complicated, but it is. It's not easy to organize a wedding for 300-400 people. Perhaps you have ever planned a great birthday party and thought you could do it again. But you will likely face many challenges. Oasis might recommend that you hire a professional event planner to help you achieve your dream wedding.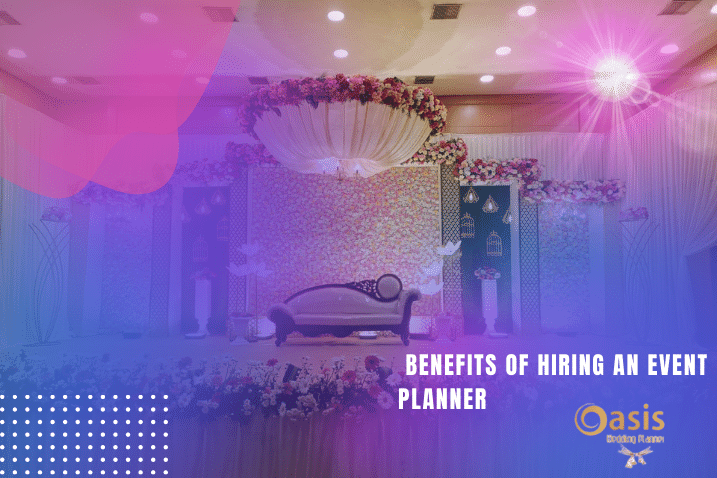 1. A professional event planner will save you time and headaches
When planning your wedding, there are many small details to consider. Many of these details you might be familiar with, but many of them are not. A professional event planner can save you time and help you focus on the important aspects of your wedding day like choosing the right venue. An event planner can also help with this.
They are experts in wedding planning and will be able to give you a better idea about which areas to focus on first and how they should be done. A professional event planner will help you save time and avoid the headaches that comes with trying to figure out when and what to do.
2. A professional event planner will help you bring your vision to life
Perhaps you have had a vision of how your wedding should look. Event planners are able to help you realize your vision by listening to what you have in mind and using their expertise.
Perhaps you have imagined a glamorous ballroom with a marble floor and your partner dancing the night away. Perhaps you aren't sure how to present that vision or how to make it a reality. An event planner can help you achieve the look and feel you desire for your wedding.
Perhaps you were planning to use blue napkins but your planner has already determined that black napkins would complement your other colours better. Your wedding can be extraordinary if you pay attention to the little details. The event planner's vision and expertise can make all of the difference.
3. Industry Expertise and Fostered Partnerships
Event planners have a long list of industry contacts that they can use to help you plan your wedding. Your event planner has a good chance of finding the right vendor for you.
Wedding planners are experts in their industry and can keep up to date with what's hot. You may have wanted silver flatware but your planner knows that gold is more in line with your style. A professional wedding planner can give sound advice about what to do and when.
4. Organisation and details
Event planners are required to organize by the very nature and function of their job. They will have the experience to help you plan your dream wedding. They will know the best way to organize your wedding so that it has the greatest impact on your guests. A well-organized wedding will ensure that everything runs smoothly and you don't have to worry as much.
The details are what make a story so special. A professional event planner will know that it is the small details that matter when telling your story to guests. Even though you may not be aware of it, clever details can make a big impact on your guests' perceptions.
A specific seating arrangement can make all the difference in how your guests experience their event. You may not have thought of this, but your event planner will.
5. Budgeting for Your Wedding
Everything should be perfect when it comes to your wedding. You want everything to be perfect.
A professional event planner can help you keep your budget in line. They have the expertise to determine the best amount of money to make the most impact. Your event planner may also have contacts with vendors that can work with you at a reduced price. This should help to stretch your budget.
6. Flexibility and timeliness
It can be difficult to plan a wedding while also managing your family and work responsibilities. It can be difficult to leave work at the end of the day to meet with vendors. Event planners will solve this problem because they can meet with vendors and make all the necessary decisions.
7. Your Event Planner will be there for you
You will have many ideas and questions when planning your wedding. A professional event planner can help you ask the right questions and get ideas from someone who is an expert in this field. They will help you organize the wedding that you envision.
Their job does not end with planning. You'll also have someone to help you organize the day. It's possible to enjoy the moment, dance the night away and mix with your guests, without worrying about anything. Your event planner will take care of any issues that may arise so that you don't stress.
This article should have given you an idea of the many benefits of hiring a professional event planner to plan your wedding. It's not as simple as selecting music and food. When it comes to organizing everything for one the most important and significant days in your life, your event planner is much more than that.
It can be hard to make the right decisions. The event planner's experience will be invaluable during this process. After you have discussed your ideas and budget, let them use their industry knowledge to bring your dream wedding to life.